While there is plenty that goes into the design and manufacture of a supercar, speed is what really makes a supercar truly exceptional.
While many of us will never get the chance to see any of these cars in real life, it's always thrilling to know that these speed-machines exist!
1. Hennessey Venom F5
The Hennessey Venom F5 aims to eliminate the Bugatti Chiron on all levels including acceleration and speed with its projected 0-100kph in 2 seconds acceleration, its projected top speed of 484kph, and its incredible 1600bhp. Production is said to start in 2019 and only 24 examples will be produced.
2. Bugatti Chiron
In 2017 at the IAA show in Frankfurt, it was announced that the Bugatti Chiron broke the fastest record of 0-400-0kph by completing it in 41.96 seconds at the Ehra-Lessien high-speed oval.
It was also announced that the car could accelerate to 100kph in 2.4 seconds.
3. Koenigsegg Agera RS
On 1st October 2017, the Koenigsegg Agera RS broke the previous fastest record held by the Bugatti Chiron by completing 0-400-0kph in 36.44 seconds at an airfield in Vandel, Denmark.
With a top speed of 458kph and 1160hp, the Koenigsegg Agera RS is in a league of its own.
4. Koenigsegg Agera One: 1
The Koenigsegg Agera One: 1 is the first homologated production car in the world with one Megawatt of power, leading the industry to term it as a 'megacar' as opposed to a 'supercar'.
With a top speed of 439kph and an acceleration of 0-100kph in 2.8 seconds it comes close to the Bugatti Chiron.
5. Hennessey Venom GT
Thanks to its 7.0L Twin-Turbocharged V8 engine, the Hennessey Venom GT is able to reach a top speed of 434kph and produces 1244hp – you'll have to play real money slots just to calm down after a journey in this! Only 2.8 seconds are needed to accelerate from 0-100kph and a mere 14.51 seconds to reach a mind-numbing 321kph.
6. Bugatti Veyron Grand Sport Vitesse La Finale
Known as the 'end-of-the-line' model, the La Finale is the 450th example of the Veyron and the 150th roadster model.
Powered by Bugatti's 8.0L W-16 engine, the Grand Sport Vitesse La Finale produces an incredible 1183hp and can reach 100kph in 2.5 seconds.
7. Koenigsegg Regera
The Koenigsegg Regera is a limited production, plug-in hybrid sports car first unveiled at Geneva Motor Show in 2015. Only 80 units will be produced in total and thanks to its hybrid powertrain, the Koenigsegg Regera produces 1797hp and can reach a top speed of 410kph.
8. Lykan Fenyr SuperSport
The Lykan Fenyr SuperSport produced by W Motors has a limited yearly production, making it one of the most sought-after hypercars in the world.
It produces an impressive 800hp at 7100rpm and maximum torque of 980Nm at 4000rpm thanks to its 3.8 Flat 6 engine, and can accelerate to 100kph in 2.7 seconds with a top speed exceeding 400kph.
9. Zenvo TS1 GT
The Zenvo TS1 GT is a high-performance supercar which is actually handmade by a small team of workers.
It was the company's first ever supercar, reaches a top speed of 375kph, accelerates from 0-100kph in 3 seconds flat, and produces 1104hp.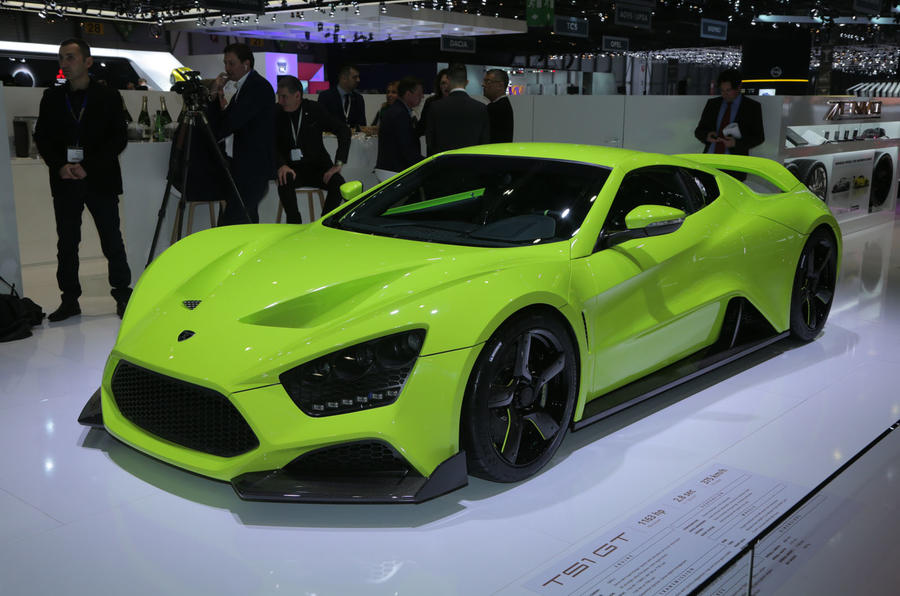 10. Pagani Huayra Roadster
Thanks to its 6L Twin-Turbo V12 engine, the Pagani Huayra Roadster – which has been made in a sold-out production run of 100 units – produces 764hp, can reach 100kph in 3 seconds, and reaches a top speed of 370kph.