While there are plenty of electric and hybrid cars set for release in 2018 and beyond, we know quite a few petrol heads that only get that thrill from a huge, loud petrol engine.
As such, we have created a list of high performance luxury cars set for release in 2018 and beyond that we can't wait to test drive!
2018 Buick Regal GS
While the Buick Regal will also be released in the TourX and Sportback models, we are most looking forward to the GS – an all-wheel drive 4-door hatch powered by Buick's 3.6L V6 engine with 310hp and 282lb-ft of torque.
2018 Chevrolet Camaro ZL1 1LE
The new Chevrolet Camaro is the biggest bang for your Camaro buck to date. Riding on Goodyear Eagle F1 SuperCar 3R tyres, a 6-speed manual gearbox is the only option and the supercharged 6.2L V8 charges forth with 650hp and 650lb-ft of torque.
2018 Lexus LS
With an all-new 3.5L twin-turbo V6 engine which produces an incredible 415hp and 445lb-ft of torque, the Lexus LS wears the same familiar spindle grille we've come to expect and has a more angular, distinguishing design which looks absolutely aggressive from some angles.
2018 Maserati GranTurismo
The GranTurismo has essentially been in production for an entire decade and the 2018 model has received a thorough update. With a naturally aspirated Ferrari-derived 4.7L V8 which produces 460hp and 384lb-ft of torque, the GranTurismo can reach 60mph in just 4.6 seconds.
2019 Audi A8
The 2019 Audi A8 has a 12.3" high-resolution virtual cockpit display replacing the instrument panel, the capacity to interpret GPS route data and sensor information to automatically cruise at speeds of 34-99mph, unattended self-parking (perfect for top internet based betting sites), and a 3.0L turbocharged engine producing 340hp and 370lb-ft of torque.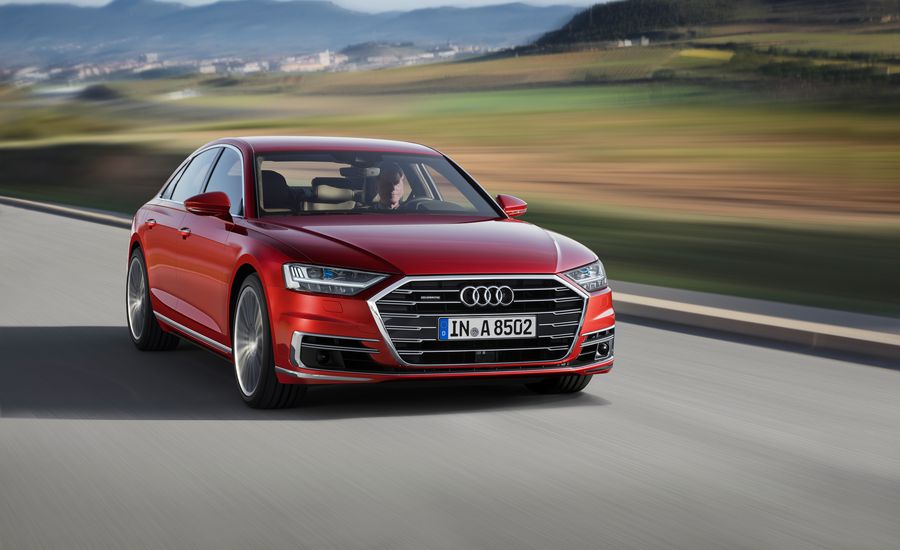 2019 BMW 8 Series
Entry-level 8 series models come equipped with a 3.0L six-cylinder diesel or petrol engines which will produce 261hp and 326hp respectively – enough to race to 60mph in just 6 seconds. However there will also be a 4.4L twin-turbo V8 petrol model which produces over 600hp!
2019 Ford Shelby Mustang GT500
The Shelby GT500 will most likely feature a supercharged version of the GT350's 5.2L V8 which generates over 700hp. However, don't expect the supercharged engine to howl like its naturally aspirated siblings. The GT500 will likely not inherit the GT350's flat-pane crankshaft which is responsible for the Shelby's signature sound.
2019 Jaguar XE SV Project 8
According to Jaguar, the XE SV Project 8 will be available in 2018 in highly limited numbers and the sedan will feature a 5.0L supercharged V8 engine producing 592hp. Described as "most powerful, agile, and extreme" vehicle that Jaguar has ever created, we could not be more thrilled.
2020 Aston Martin Valkyrie
Created in partnership with Red Bull Racing and F1 design legend Adrian Newey, Aston Martin has imagined what they describe as the "the hypercar of our time". Featuring variable ride height and a hybrid rear-wheel drive powertrain, the Valkyrie sports a 6.5L Cosworth V12 engine supplemented by an electric motor with a combined output of 1000hp.
2021 Ferrari F16X SUV
While it may be a while before it's confirmed, there are plenty of rumours flying around of a Ferrari SUV with a plug-in hybrid incorporating a 3.9L turbocharged V8 and a 161hp, 221lb-ft torque electric motor. The F16X is set to rival upcoming luxury SUVs such as the Aston Martin DBX and the Rolls-Royce Cullinan.